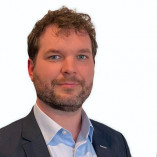 Tyler Mullican is a transformational information security executive, hands-on security architect and thought leader with a talent for building consensus around his information security vision and roadmaps. From Fortune 100 healthcare organizations to entrepreneurial startups, he's spent 16 years architecting enterprise security solutions in highly regulated environments and developing subject matter expertise in security architecture engineering, threat analysis, vulnerability management, eDiscovery, digital forensics and a host of other security specialties.
Tyler holds an MBA and Bachelor of Science in Information Security, is CISSP certified and serves on the Palo Alto Networks Healthcare Industry Council. He has authored numerous articles on information security and has actively contributed to several non-profit security organizations.
Tyler has helped organizations respond to large scale public data breaches and understand the balance between business goals and cyber security goals. Each organization has a risk appetite, Tyler can help organizations understand their tolerances and provide guidance on translating tolerances into strategies.
Location

United States

Industry

Computer and Network Security

Languages

English